The challenges of our 2022 economy won't be going away anytime soon. With the new comes talk of more inflation, recession, and a messy economic storm. The good news? With your credit union, you don't have to go it alone.
Consolidate your debt
When the price of just about everything is going up, it's smart to shop for lower-cost alternatives. That goes for your loan, too. Did you finance your last vehicle at the dealership? Did you borrow from a big bank? Is your department store credit card raising their rates, again? Instead of overpaying for credit, consolidate it at THFCU. It doesn't matter if that debt is big or small – lowering the cost will save you now and later!
Large Debt
Big balances? Multiple loans? Consider a Home Equity Loan. You'll command a rate lower than just about any other loan, and can consolidate multiple payments into one.
Medium Debt
Your home isn't your only asset with equity. If you have the room, we can help you add to an existing THFCU vehicle loan, or may be able to pay off your loan elsewhere while adding more for consolidation.
Small Debt
If you carry balances on your other plastic, talk to us about how to quickly transfer that debt onto our low rate rewards credit card.
Get low
Shopping for a car but concerned about the payment? Our MORE4LESS vehicle loan will dramatically lower your monthly obligation. See how much by visiting our MORE4LESS calculator – Get a quote with by entering in a Vehicle Identification Number (VIN) or build your own!
Concerned about making payments?
If you have a loan with THFCU and have concerns about making your obligations in the new year, give us a call. Being proactive will give you more options and could preserve your credit score. Remember too that THFCU members have access to GreenPath, a non-profit financial wellness program that partners with you to achieve your financial goals. Learn more about GreenPath on our Services page.

Which purchase is top of mind? Is it a new sled before the snow and ice melts, or a new boat once it finally does? Regardless of the season you're shopping for, you're not too early or too late.
Our fast and easy loan application will get you ready to buy a snowmobile with time to enjoy it. Or take advantage before rates go up and pre-approve that boat purchase now.
All it takes is a phone call to your credit union, where we're ready to help through spring, summer, winter and fall.


Why deal with difficult when things can be done easily? Pre-approving your vehicle loan at Two Harbors Federal Credit Union isn't just easy – It's Easy Peasy.
Call or visit us and we'll take you through the quick and painless pre-approval process. When complete, you'll know how much you can spend, your loan term and an estimate of your monthly payment.
Then go shopping, free of dealer pressure and visits to the finance office. Once you find what you're looking for, simply write a check for the amount of your purchase and drive off the lot.
Scan or take a photo of the purchase agreement and send it to your loan officer. We'll reply with loan documents that you can securely sign online.
That's it – Easy Peasy.
Simple, fast loans at competitive rates and terms. And why not? Our members deserve to have things easy.


Mortgage rates are at record lows. If you haven't refinanced your home loan with THFCU, it's worth noting that a simple phone call could save you thousands.
The same is true for shoppers looking for a purchase mortgage. Contact us before you shop and we'll help you determine a price range that fits your budget. With today's low interest rates, you may be surprised by just how much home you can afford.
Regardless of your situation, Mortgage Lending Officer Yancy Star can help you fill in the blanks on your next mortgage decision. Learn from Yancy! Call (218) 834-2266 or email ystark@thfcu.org


Wherever you choose to explore, know you're never far from your credit union. With our free mobile services, you have 24/7 access to your accounts – check balances, make payments, transfer funds, even deposit checks from anywhere you can get a signal.
Download the TouchBanking app from Google Play or the App Store, use the code thfcumobile to customize your experience. (Be sure to activate your service by logging in to Home Banking on your PC or laptop first).
Learn more on our E-Services page or just give us a call and we'll walk you through the process in less than five minutes.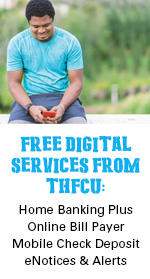 Whenever you use your THFCU Credit Card, you earn points for your purchases. Those points add up – literally – to incredible rewards.
Log in at uchooserewards.com and register your THFCU Credit Card to get started. As you earn points, check back to see how much you've accumulated and what you're able to spend it on. With thousands of merchandise/travel options and massive point-earning potential, you'll have the luxury of making many exciting decisions.
Register your card today. If you don't yet have a THFCU Visa Credit Card, your first decision could be your easiest – Decide to apply today!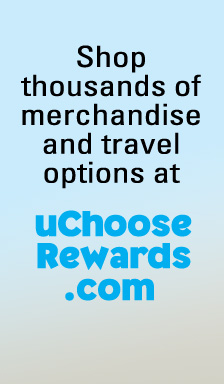 Save Money, Win Cash with a WINcentive™ Savings Account
If you're looking for more excitement in your THFCU savings, consider WINcentive, a new savings account that offers members the chance to win cash prizes from a state-wide, credit union exclusive drawing.
Every time you increase your savings balance by $25 month-over-month, you'll receive one entry into the drawing (up to four per month). Prize drawings occur monthly, quarterly and annually, giving you hundreds of chances to win every year.
Your THFCU WINcentive savings account earns dividends, too. Increasing your balance not only increases your chances of winning, it also gets you closer to your savings goal.
Ask about WINcentive and start saving – and winning – today!
2023 Statewide Prize Drawing Schedule
Prize Drawings
Number of Winners
Prize Amounts
Drawing Dates
Monthly
45
$100
10th of each month
Quarterly
4
$1,000
10th of each month
Annually
1
$5,000
January, 2024
Total in 2023
557
$75,000
Winning one prize category (monthly, quarterly, or annual) does not disqualify a participant from winning a different prize category within the same year. Drawings will occur on or about the 10th of each month, or the next business day, for the previous month and/or quarter end. Prize Amounts are estimates and subject to change.


Introducing Remote Deposit! Now you can deposit checks to your THFCU accounts any time using your smart phone or tablet.
Enrolling is free and easy. Simply call our office or complete and return the user's agreement found Go there .
Once enrolled, we'll give you access to our remote deposit app. Snap a photo of the front and back of your endorsed check, confirm the check amount, and upload it to us. In most cases, we'll post the funds on the next business day.
Remote Deposit is another free service of Two Harbors Federal Credit Union.