Spring is the perfect time to clean up your finances and give them a fresh start. And as part of our Spring Sweepstakes, you're entered for a chance to win $1,000 for every qualifying transaction you make.
It's easier than ever to clean up your financial routine:
Bill Pay – Manage and pay your bills at home or on the go.
Zelle® - Send money directly to the people you know and trust.
eBill – Your bills delivered to your online banking account.
External Transfers – Move your money when and where you need it.
Click here for complete sweepstakes rules
Visit the login at the top of this page to get started!
Must have a bank account in the U.S. to use Zelle.
Spring Sweepstakes. NO PURCHASE OR PAYMENT NECESSARY TO ENTER OR WIN. A PURCHASE WILL NOT INCREASE YOUR CHANCES OF WINNING. Sweepstakes starts on 4/1/21 at 12:00:01 a.m. ET and ends on 5/31/21 at 11:59:59 p.m. ET. Open to legal residents of the 50 United States and D.C. including the territories of Guam and Saipan who are 18 years of age and older and are registered accountholders in good standing at a participating Financial Institution. Void where prohibited. For complete Official Rules including details on how to enter by mail, click here. Sponsor: Fiserv Solutions, LLC, 255 Fiserv Drive Brookfield, WI 53045.
Copyright © 2021 Two Harbors Federal Credit Union. All rights reserved. TransferNow is a registered trademark of Fiserv, Inc. or its affiliates. Terms and conditions apply. Zelle and the Zelle related marks are wholly owned by Early Warning Services, LLC and are used herein under license. THIS PROMOTION IS IN NO WAY SPONSORED, ENDORSED, ADMINISTERED BY OR ASSOCIATED WITH EARLY WARNING SERVICES, LLC OR ZELLE®.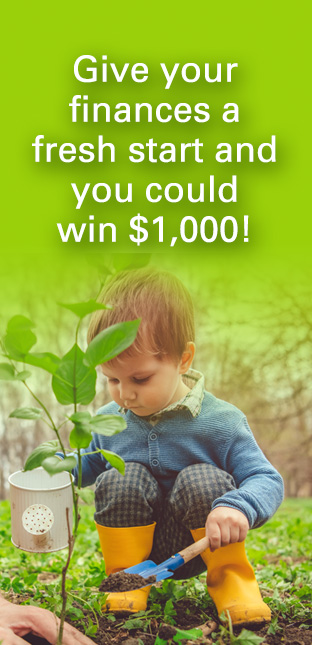 Rock on Two Harbors!
This April we're expanding our youth month celebration to those age 21 and under. Call THFCU to open a new checking account, new debit card and mobile account access. You'll also have a beginning balance, because we'll deposit the first $15.00 for you.
Open a WINcentive Savings account and we'll further your reward with another $10.00 deposit. WINcentive is savings that really rocks – earn a competitive dividend and with every $25 deposit you'll be entered into a statewide lottery where you could win $100 every month, $1,000 every quarter, or $5,000 every year!
Limit four WINcentive entries each month. Winning one WINcentive prize category (monthly, quarterly, or annual) does not disqualify a participant from winning a different prize category within the same year. Drawings will occur on or about the 10th of each month, or the next business day, for the previous month and/or quarter end. Prize amounts are subject to change.


Seasons come and go fast in Minnesota, if you're not ready to experience them to the fullest, they could just pass you by. Our new loan special is happening now so you can enjoy each and every day of the warmer seasons with rock-bottom rates on vehicles, boats and RVs.
And you don't have to buy new to get our best deals. Model years as old as 2016 qualify for these special rates.
Thinking but not sure you're buying? Get pre-approved now and shop at your leisure. There is no cost or obligation to apply now. You'll know just how much you can spend and can even estimate your monthly payment. Apply online, by phone, or call for an appointment and meet with a loan officer in person in a socially distant environment. Call (218) 834-2266 to get started.
Act now, as this special offer is available for a limited time. Just like the seasons in northern Minnesota,it'll be gone before you know it.
APR = Annual percentage rate. Rates dependent on credit history, collateral and term.


It's easy to get excited about a new car. The anticipation of getting behind the wheel of something new – or new to you – is a wonderful feeling, right up until that moment when you see the price tag.
The MORE4LESS Vehicle Loan allows you to think big when car-shopping, because the resulting payment will be much smaller than you expect. Here's how it works: Your loan payment is calculated on only a portion of the debt and the remaining balance is kept separate as a balloon. When you get to the end of the loan term, you can pay off the balloon or refinance the remaining debt. Or simply turn in the vehicle and walk away from the final payment. Should you choose to walk away, any remaining equity can be applied to your next vehicle purchase.
Still not sure? Run the numbers on the vehicle you've been thinking about. Click the yellow box to the right to connect to our MORE4LESS payment calculator. Choose the year, make, and model of your next car to see the difference between a traditional loan and MORE4LESS. Discover for yourself just how rewarding it can be to think big!


We're all spending more time at home these days, and that can only mean you've thought at least once about remodeling your space. Whether it's a new kitchen, a bathroom remodel, or a reimagined living room, those sketches can become much more with a home equity loan from THFCU.
Borrow in one lump sum or open a line of credit and access only what you need when you need it. Either way, enjoy some of the best rates and terms in our market. Call today and we'll get you started!
Rates dependent on credit history, collateral, and term.


Mortgage rates are at record lows. If you haven't refinanced your home loan with THFCU, it's worth noting that a simple phone call could save you thousands.
The same is true for shoppers looking for a purchase mortgage. Contact us before you shop and we'll help you determine a price range that fits your budget. With today's low interest rates, you may be surprised by just how much home you can afford.
Regardless of your situation, Mortgage Lending Officer Lisa Fransen can help you fill in the blanks on your next mortgage decision. Learn from Lisa! Call (218) 834-2266 or email lfransen@thfcu.org


Wherever you choose to explore, know you're never far from your credit union. With our free mobile services, you have 24/7 access to your accounts – check balances, make payments, transfer funds, even deposit checks from anywhere you can get a signal.
Download the TouchBanking app from Google Play or the App Store, use the code thfcumobile to customize your experience. (Be sure to activate your service by logging in to Home Banking on your PC or laptop first).
Learn more on our E-Services page or just give us a call and we'll walk you through the process in less than five minutes.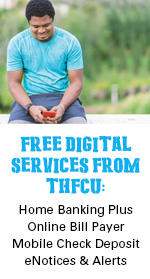 Whenever you use your THFCU Credit Card, you earn points for your purchases. Those points add up – literally – to incredible rewards.
Log in at uchooserewards.com and register your THFCU Credit Card to get started. As you earn points, check back to see how much you've accumulated and what you're able to spend it on. With thousands of merchandise/travel options and massive point-earning potential, you'll have the luxury of making many exciting decisions.
Register your card today. If you don't yet have a THFCU Visa Credit Card, your first decision could be your easiest – Decide to apply today!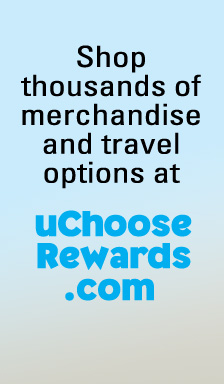 Save Money, Win Cash with a WINcentive™ Savings Account
If you're looking for more excitement in your THFCU savings, consider WINcentive, a new savings account that offers members the chance to win cash prizes from a state-wide, credit union exclusive drawing.
Every time you increase your savings balance by $25 month-over-month, you'll receive one entry into the drawing (up to four per month). Prize drawings occur monthly, quarterly and annually, giving you hundreds of chances to win every year.
Your THFCU WINcentive savings account earns dividends, too. Increasing your balance not only increases your chances of winning, it also gets you closer to your savings goal.
Ask about WINcentive and start saving – and winning – today!
2020 Statewide Prize Drawing Schedule
Prize Drawings
Number of Winners
Prize Amounts
Drawing Dates
Monthly
45
$100
10th of each month
Quarterly
4
$1,000
10th of each month
Annually
1
$5,000
January 11, 2021
Total in 2020
557
$75,000
Winning one prize category (monthly, quarterly, or annual) does not disqualify a participant from winning a different prize category within the same year. Drawings will occur on or about the 10th of each month, or the next business day, for the previous month and/or quarter end. Prize Amounts are estimates and subject to change.


Introducing Remote Deposit! Now you can deposit checks to your THFCU accounts any time using your smart phone or tablet.
Enrolling is free and easy. Simply call our office or complete and return the user's agreement found Go there .
Once enrolled, we'll give you access to our remote deposit app. Snap a photo of the front and back of your endorsed check, confirm the check amount, and upload it to us. In most cases, we'll post the funds on the next business day.
Remote Deposit is another free service of Two Harbors Federal Credit Union.