IN THE COMMUNITY

Our passion is to advance the financial well-being of our membership, and one of the best ways to do that is through financial education. The more our members know, the more likely they are to benefit from sound financial decisions.
Among credit unions THFCU is well known and regarded for our commitment to education. Recently the Minnesota Credit Union Foundation awarded us a grant to further our financial education programs, particularly those targeted at young adults.
To that end we recently launched It's a Money Thing an informative and fun video series featuring Jen, a cartoon character that embarks on a journey to understand everything there is to know about money.
Whether it's comparing credit cards, leasing vs. buying, or boosting your credit score, Jen has the questions – and answers to keep you in the know.
Online Financial Education Videos
Watch the video Common Money Beliefs starring Jen below!


THFCU is back in schools – in person – teaching financial education!
Recently members of the THFCU team visited third and fourth grade classrooms at Minnehaha Elementary, where we talked about making money, spending it, and saving it.
After several fun activities - and a lot of stickers – we're just getting started. We'll be back to keep the learning alive. Says THFCU's Erin, "We're helping kids become financially smart, in and out of the classroom!"


The generosity of our members never ceases to amaze. Thanks to you, we were once again able to meet our gift match goal!
THFCU raised $3,000 used for the purchase of toys, clothing and food for Coop Light & Power Toy Drive and the Two Harbors Area Food Shelf.
People Helping People is the founding philosophy of credit unions and other cooperatives. Never is that philosophy more appropriate than during the holiday season. Our community greatly appreciates your support.


Two Harbors Federal Credit Union has partnered with Lake County to be a distribution site for homemade masks. Protect yourself and others from the spread of COVID-19.
Request a mask on your next visit to our drive through, or when you make an appointment for an in-branch meeting. THFCU is conveniently located at 801 11th Street in Two Harbors. Supplies are limited.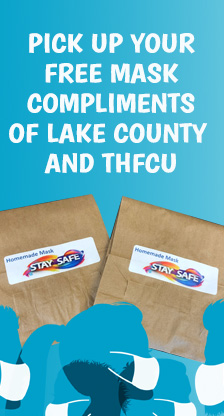 Thanks to the generosity of our members our 2020 holiday gift match was a resounding success. For every dollar you donated we matched it with two more, until we reached our goal of $3,000 to local charities.
That goal was achieved, and quickly! We returned those dollars to the Two Harbors community with a $1,400 donation to our area Food Shelf, and the purchase of clothes for the Cooperative Light and Power (CLP) annual Toy Drive.
The holidays were that much brighter for Two Harbors in 2020. We're proud of our members for making it happen!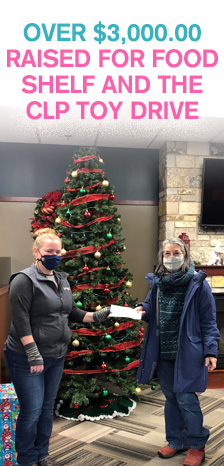 Our First Annual Community Shred Day proved popular with the Two Harbors community. Vehicles lined up to safely and securely unload items for disposal.
Shred Day was free, open to the public, and something we plan to do every year. Watch our website as we post details of future shred events.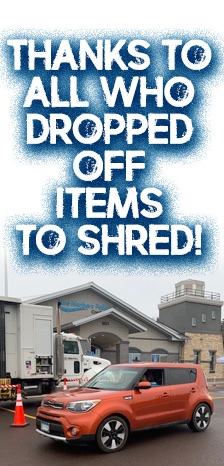 Even a global pandemic couldn't stop your credit union from supporting local schools!
Our participation in the 2020 Stuff the Bus campaign may have looked a little different this year. COVID-19 prevented us from hosting a drop off location at our 11th Street location. But we were able to raise a total of $250.00 from THFCU employees to donate directly to this important fundraiser.
Our donated dollars will be used to purchase necessary school supplies for students in the Lake Superior School District.
We look forward to serving as a drop off location for supplies when we return to the program in 2021!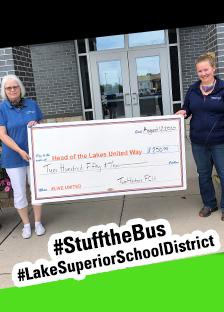 Young THFCU members experienced The Magic of Saving in June. We welcomed dozens of new 18-1nd-under members and checking accounts and celebrated Youth Month despite the challenges of COVID-19.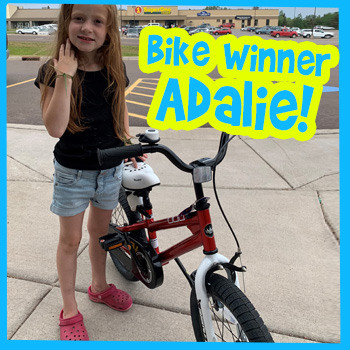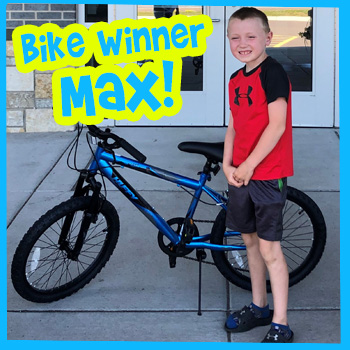 We also had prize winners! Members Adalie and Max each won a new bicycle. Members Carmen and Logan each won a $50.00 Amazon gift card. Hope, Aubrey and Emily are our coloring contest champs (see their work, pictured to the right) and each won $10. Last but not least, our National Youth Savings Challenge winners are Noah, Rylee, Solemn & Karli, each receiving $25.00.
Thank you to everyone who participated in The Magic of Saving!


In February Erin and Liz shared THFCU's new financial education program with students at Two Harbors High School.
"It's a Money Thing" provides a full library of educational videos on subjects from basic budgeting and car buying to writing business plans and earning money online. Though designed for a teenage audience, the videos are available to all THFCU members and offer a fun way to learn or brush up on your financial knowledge.
THHS students learned the difference between credit cards, debit cards and pre-paid plastic, screening the "Comparing Cards" video, one part of a four-part series.
After watching, the class discussed the differences, and shared their own experiences. An increasing percentage of middle school and high school students use plastic regularly. Thanks to THFCU, they're being smart about the cards they choose, and smart about how they use them.
Special thanks to the Minnesota Credit Union Foundation for funding this important program. Thanks as well to THHS teachers Mrs. Pierce and Mr. Pavlisich. If you'd like THFCU in your classroom, contact Erin at emecklin@thfcu.org


Every year the Two Harbors Community embraces the cold season with the Winter Frolic. The Frolic consists of three days of events, all sponsored by local businesses and community members.
Two Harbors Federal Credit Union was a proud sponsor of the 2020 Winter Frolic.
In addition to our financial support, we joined you at the concerts, the Tug of War, and the Chili Cook-Off. Of course Team THFCU returned to the ice to demonstrate their incredible curling skills.
Our employees live in the North Shore community for a reason – we love the outdoors, and celebrate all seasons. To all our family and friends that participated in this year's Winter Frolic – thank you, and we'll see you again next year!


Our Back to School Open House was well attended by members young and old! We welcomed many to kick off the 2019-2020 school year with refreshments, free notebooks, and financial education.
A few lucky students walked away with brand new Granite Gear backpacks - our winners were Jada from Two Harbors High School, Anja from Minnehaha Elementary, and Vaughn, also from Minnehaha.
Remember THFCU has many programs for students of all ages, including the Savings Safari Club(featuring Monty the Money Monkey) for members age 10 and under and our Early Earners Club for members age 11 to 14.
Scholarships are also available for college-bound high school seniors, and those returning to post-secondary education. Check our Student Section regularly for the announcement of our next offering.
Thank you for visiting our Back to School Open House - Congratulations to our winners!


Two Harbors Federal Credit Union stuffed the bus with over 250 school supplies collected for area students in need. Backpacks, calculators, pens, pencils,notebooks and much more will be put to use by young minds in Lake County.
Stuff the Bus is a national campaign promoted by the United Way. Hundreds ofcommunities across the country collect supplies, but all proceeds remain local. At THFCU all supplies were donated to area schools then later distributed by faculty to local students.
"THFCU has long been a major supporter of education," said Director of Member Engagement Erin Mecklin, "and stuffing the bus was a fun way to continue that tradition."


Two Harbors members just keep winning with WINcentive!
The WINcentive Savings account is a unique and rewarding way to invest. Earn dividends just like a regular savings account, plus receive entries into drawings for cash prizes of $100, $1,000, or $5,000.
Our latest winner is 13-year old James, who has been making deposits into his WINcentive account every month since he opened it. James won a monthly $100 drawing and is still eligible for our quarterly and annual prize drawings.
Congratulations, James! We're looking forward to awarding our next WINcentive winner. Learn more about this exciting new account here.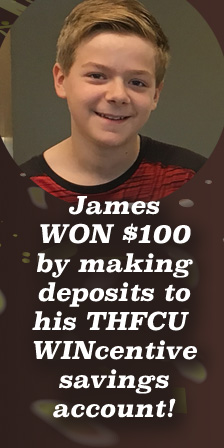 THFCU hit the links again in August in support of the Two Harbors Chamber of Commerce. The credit union was a major sponsor of the event, putting together two teams to support our area Chamber.
The Two Harbors Chamber is comprised of several Northeastern Minnesota communities. Their mission is to create and enhance a business climate in which area businesses can prosper.
As a financial cooperative owned and operated by those in and around the Two Harbors area, THFCU supports our Chamber and its mission. Participants in this year's Chamber Scramble appear to the right.


Two Harbors FCU was a major sponsor of the Tri-Agency Golf Fundraiser in late July. Team THFCU golfed the event, and took time to pose for a quick selfie. Proceeds support three worthy community causes:
Lake County Developmental Achievement Center (DAC) Provides job skills training, supervised work settings, community integration, individualized programming, socialization skills training and more for individuals with developmental disabilities.
Two Harbors Food Shelf - Reducing hunger and improving the health of the Two Harbors community by providing food and other resources at no cost.
Community Partners -Supporting the independence of people age 60+ and their caregivers in the Two Harbors area.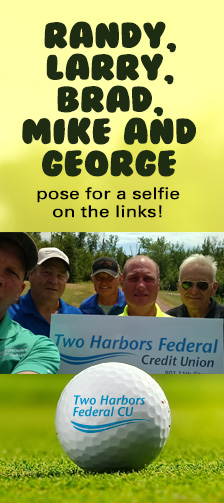 Each year Two Harbors is a proud supporter of Heritage Days, our four-day community event held in early July.
Thousands of locals and visitors turned out for the Heritage Days parade. Our own Jerry Hostetter piloted the THFCU pickup and was joined by other members of the THFCU family.
Heritage Days is always a lot of fun, and a great way to demonstrate our 70+ years of community pride. We already look forward to the 2019 event!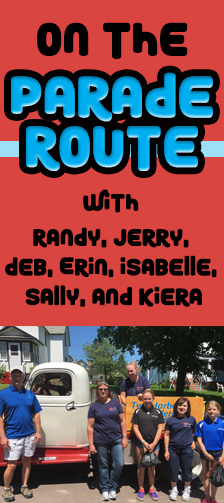 Congratulations to Miranda! She is the latest THFCU member to win cash simply for saving money at her credit union.
Miranda invested in WINcentive, a savings account that pays dividends and rewards the saving habit. Every time you make a deposit of $25 or greater in a given month, you get entered into a drawing for cash prizes. Over 550 prizes will be awarded in 2018, from dozens of $100 monthly awards to a grand prize of $5,000 in early 2019.
Learn more about WINcentive Savings here.


Two Harbors youth discovered the Science of Saving during the month of April! Visitors to our 11th Street office participated in our coloring contest and took silly selfies in the Science Photo Booth

t THFCU kids also opened new savings accounts and made deposits to existing accounts, getting into the habit of saving rather than spending their money. For every youth savings deposit during the month, young accountholders were placed into our spectacular prize drawings.


Winners include:
Amazon Gift Card:
Braxton
Brooke
New Bicycle:
Avrey
Hayden


The spirit of the holiday season was at THFCU during the month of December!

Early in the month, members lined up delicious holiday treats during our seasonal open house. A week later we welcomed dozens of young boys and girls to the THFCU Kids' Christmas Party. Our young guests enjoyed cookies, cocoa, crafts and a visit from Santa. Winners of our drawing were Isabelle and Tyson.

Over the past few weeks THFCU members and employees gave generously to our Holiday Gift Match program. For every dollar raised, THFCU matched it with two dollars more, up to our goal of $1,000.

That goal was met and on behalf of our generous members we were able to provide clothing and presents to two needy families in our community. We were also able to provide contribution to the Co-Op Light and Power Toy Drive.

What a fun and heart-warming holiday celebration. We're proud of our members, and delighted to give back so much to the Two Harbors Community. Wishing holiday cheer to you this season – we look forward to 2018!


THFCU staff welcomed students back to school in late August with supplies and prizes.

Open houses at Minnehaha Elementary and Two Harbors High School provided space for the credit union team to hand out notebooks and take entries for backpack drawings.

THFCU employees Erin and James spoke to hundreds of families and donated over 300 notebooks to incoming students. Congratulations to Tyler (pictured) and Layton from Minnehaha, and to Cameron (pictured) and Ariana from Two Harbors High School. Each was a winner of a new backpack and are ready to start school in style!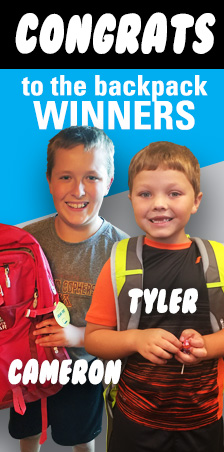 THFCU employees participated in the Special Olympics Torch Run, which made its way through Two Harbors in late June. The benefit was part of a multi-day event that spanned more than 2,000 miles across the state of Minnesota culminating in the Celebration Ceremonies in Apple Valley.
The Torch Run, organized by Minnesota Law Enforcement, is the largest grassroots fundraising and public awareness campaign benefitting the Special Olympics.
THFCU employees and friends joined the "Flame of Hope" as it traveled from Burlington Bay through downtown Two Harbors and back over to the Lake County Arena. Team THFCU's participation also raised money for this important cause. To support Special Olympics Minnesota visit specialolympicsminnesota.org.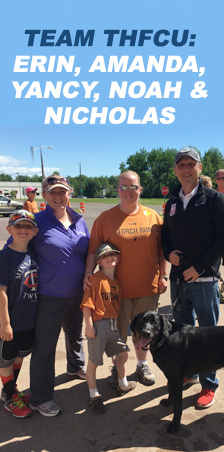 April was Youth Month at Two Harbors Federal Credit Union. We had great fun as our young members learned valuable lessons about saving money, showed off their artistic style with our coloring page, and won exciting prizes!

Over 80 youth made deposits during the month, and many new savings accounts were opened.

Prize winners:
14" Bike - Rylee
18" Bike - Keegan
$50 Amazon Gift Card - Bryce
$50 Amazon Gift Card - Jimmy
Monty the Money Monkey and his friends at THFCU thank all who were able to visit us in April. It was so much fun we're going to do it all over again next year!


Talking Issues with Rick Nolan
Recently Two Harbors Federal Credit Union President/CEO Randy Willert visited with U.S. Representative Rick Nolan to discuss issues facing credit union members. Randy, along with other Minnesota credit union leaders, visited Congressman Nolan's offices in Washington, D.C. to address the following:
Regulatory Burdens. Regulation aimed at Wall Street banks inadvertently stifles credit unions' ability to provide our members with safe and affordable services.
Stopping Merchant Data Breaches. When merchant data breaches occur, credit unions (and their members) bear the costs of the breach. Merchants should be held to the same standards as banks and credit unions.
Preserving the Credit Union Tax Status. Credit unions are exempt from federal income tax due to our not-for-profit status. A tax on credit unions is a tax on the members we serve.
The issues facing credit unions nationwide impact Two Harbors and surrounding communities. We'll continue to make our legislators aware of the value of our not-for-profit, member-owned credit union.


Community Curling Challenge
Two Harbors Federal Credit Union was a proud participant in the 2017 Winter Frolic. The Frolic helps us all embrace the cold months of a North Shore winter, featuring a variety of family-friendly activities sponsored by THFCU and other local businesses.
Team THFCU (Tim, Mandy, Yancy and Erin) demonstrated their skills in the Community Curling Challenge. It was a great weekend, and an event that we are proud to sponsor each and every year!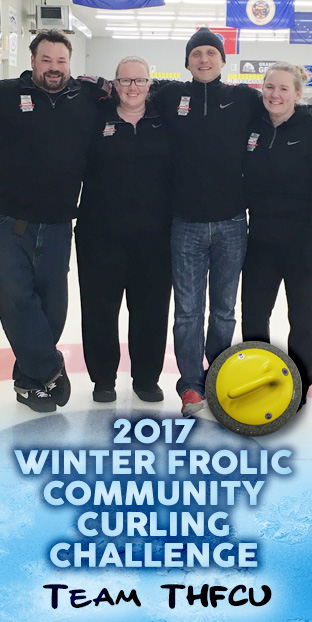 Giving Back THFCU Food Shelf Donation
At the close of each year Two Harbors Federal Credit Union enjoys a holiday tradition of Giving Back. Donations are requested of our membership, and for every $1.00 raised, the credit union matches with $2.00.
Money raised supports a variety of causes all within the Two Harbors community.
This year we met our goal early and were able to purchase gifts, clothes and food for two local families, with remaining funds donated directly to the Two Harbors Food Shelf.
THFCU President Randy Willert and Vice President of Operations Jerry Hostetter are pictured delivering funds to representatives of the Food Shelf. Proceeds were donated on behalf of Two Harbors staff, volunteers, and members.
We thank you for your continued support of our Holiday Gift Match. We are proud to represent you as we Give Back to our community!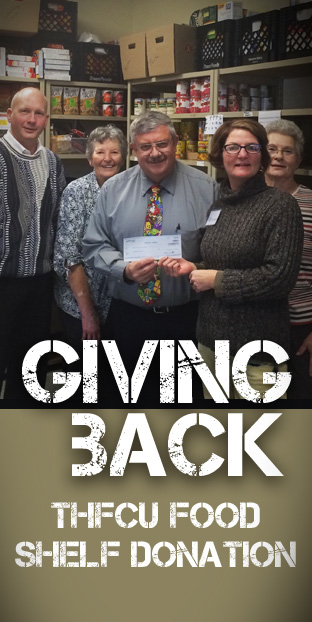 Hours & Location
Drive-Up:
Mon - Thurs 7:30am to 5:30pm
Fri 7:30am to 6:00pm
Lobby:
Mon - Fri 8:00am to 5:00pm

Located at:
801 11th Street
Two Harbors, MN 55616
218-834-2266